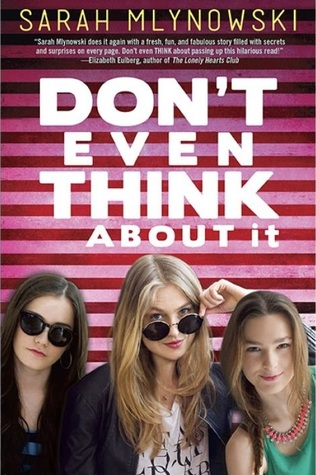 We weren't always like this. We used to be average New York City high school sophomores. Until our homeroom went for flu shots. We were prepared for some side effects. Maybe a headache. Maybe a sore arm. We definitely didn't expect to get telepathic powers. But suddenly we could hear what everyone was thinking. Our friends. Our parents. Our crushes. Now we all know that Tess is in love with her best friend, Teddy. That Mackenzie cheated on Cooper. That, um, Nurse Carmichael used to be a stripper.
Since we've kept our freakish skill a secret, we can sit next to the class brainiac and ace our tests. We can dump our boyfriends right before they dump us. We know what our friends really think of our jeans, our breath, our new bangs. We always know what's coming. Some of us will thrive. Some of us will crack. None of us will ever be the same.

So stop obsessing about your ex. We're always listening. (from Goodreads)
Source: eARC from Netgalley/Random House for review purposes (thanks!)So 22 kids in homeroom 10b go in for flu shots and can suddenly hear everyone's thoughts.  Shy Olivia gets it during her dreaded speech class, mid speech.  Tess gets it and immediately wants to find Teddy, her best friend and crush, to find out how he really feels about her.  Mackenzie gets it and is immediately concerned that everyone will now know that she cheated on her boyfriend, the charismatic and adorable Cooper.  Cooper's in her homeroom, too, but he's not developing any symptoms, which means that everyone with symptoms knows and Mackenzie is torn about telling him the truth or riding it out, in hopes that he will not get telekinesis.
One by one, they all develop this odd power and have to go about their lives as though they cannot read minds.  It's what these powers do to each of the kids that is the real draw of the book.  How will they handle knowing what everyone thinks of them, or not think of them, as the case may be.  Finding out what people are hiding or lying about may not be as great as you may think it would be.
I totally loved this book.  I read it in just a few hours, couldn't put it down.  It was funny, heart-warming, and adorable.  It was a weird first person plural point of view, but I liked it, though I did see reviews where people couldn't get into the book because of it.  It didn't bother me at all and it made sense for the story.  I really felt for some of these kids and some I wanted to slap, but I couldn't help but think that this could be a very interesting social experiment, though I wouldn't want to be a guinea pig.  At times, I felt it read a little young for me, but I think it's a great, lighthearted book, improbable though it may be.
4/5