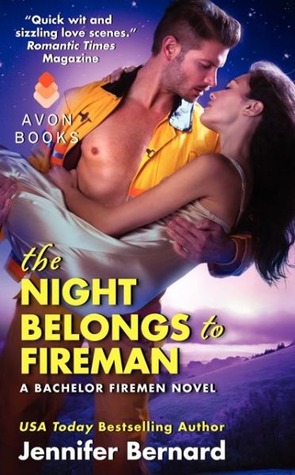 Daring . . . Sexy . . . Irresistible . . .
They're the Bachelor Firemen of San Gabriel
When fireman Fred Breen rescues a bachelorette party after a construction crane collapses onto their limo, the media labels him the "Bachelor Hero." But all Fred can think about is the petite brunette with the sexy mane of dark curls who bolted away from him faster than a wildfire after he carried her to safety. And when he discovers she's none other than Rachel Kessler, the daughter of a tech billionaire, the girl whose kidnapping riveted the nation, he intends to learn every intimate detail about this intriguing woman who sets his pulse on fire.
Rachel can't deny the lean-muscled firefighter is smokin' hot. But after having one too many drinks at the bar where she first meets him, Rachel knows she's made a fool of herself. Yet when he rescues her from the limo, she feels safe for the first time since she was held for ransom as a child. Then her overprotective father insists Fred be her bodyguard—and his close presence kindles a burning desire that only he can extinguish.
Source: egalley from publisher Harper Collins/Avon (thanks!)
Review:
Fred "Stud" Breen is a firefighter at San Gabriel, the home of the Bachelor Firemen.  He's the kind of guy that will do anything for anyone, but when he's called a hero for doing his job, he gets upset because he just doesn't see himself as a hero.
On the night he meets Rachel, out with her friends for a bachelorette party, she's in an accident that crushes the limo they are riding in and Fred is there to help them out.  As Fred goes about the rescue, he comes to realize how strong and tough Rachel is and his attraction to her grows from their initial encounter in the bar.  She begins to act strange, though, when the news cameras show up and then takes off after punching Fred in the nose.
What Fred doesn't know is that Rachel was kidnapped and held for a month in a cage when she was a child.  Also, her kidnapper has never been found, so she is understandably camera shy.  But Fred seeks her out because he just cannot get her off of his mind.
What I love about this series is that it is so light-hearted and fun.  The guys at the fire station are goofy, hot, and heartbreakingly adorable.  Fred might be the most adorable.  He's just so honorable and modest.  His friendship with the father-less boys across the street was downright sweet.  He and Rachel were, again, adorable.  A lot of my notes have that word in it, I just cannot think of another adjective to more aptly describe their relationship.  Even when they were trying to play off their attraction, I just wanted to smoosh their faces together & say "kiss!"
As much as I loved Fred and Rachel, I was kind of removed from the actual romance of it.  Maybe because they are so young (Rachel is 25, but I cannot remember if Fred's age is mentioned).  I might be more used to more mature (age-wise) characters.  It felt like I was watching & cheering for my little cousin falling in love.  There's nothing wrong with that.  I cannot have a visceral attraction to every romance character I read about (and it's a lot).
There was a thriller aspect to this story because Rachel's kidnapper was still at large and it really added a lot to the story because they cannot just sit around being adorable all day long and it also served as a good obstacle to their relationship.  I was kind of on the edge of my seat during those moments in the book.  I am sad that this is supposed to be the last book in the series because it's just so fun.  I enjoyed watching Rachel come out of her shell and taking charge of her life.  She was stunted emotionally and always under the protection of her father and her security detail, so it was a relief when she finally breaks away (well…kind of).  And Fred's confidence in himself and honorable nature made him a great heroic character.
Favorite Quotes:
"Actually, I don't kiss people all the time," she corrected herself softly.  His gaze flew up to meet hers, and suddenly it felt as if a pathway had opened up between them, a river of connection, swollen and tumbling with confused emotion.  If she dipped a toe into it, it would sweep her away.
~*~
She snorted, and rubbed her cheek against his chest.  Fred was so darn cute.  She could barely stand it sometimes.
3.5/5
Add to Goodreads
~*~
Guest Post: 
You've probably read this in a romance novel or two: the hero and heroine, who are wildly attracted to each other, decide to sleep together "to get it out of their system." Of course this never really works. They're attracted for a reason, and instead of going away, the chemistry intensifies. Does this sound familiar? I was thinking about this the other day as I put the finishing touches on my 6th book about firemen. You'd think I would have gotten firemen out of my system by now.
But have I? Nope.
The opposite, in fact. Each book I write, I gain more respect for the men and women who plunge into burning buildings and pluck survivors from the rubble. Every smoking hot hero I write, I fall a little more in love. What's not to love? They're strong, smart, protective, quick-thinking, daring. They often have a great sense of humor. Many (though not all) are very physically fit.
I appreciate their smoking hotness as much as the next girl. (Maybe more. Have you seen my Facebook page?) But the quality that really gets me about firemen is their combination of ordinary and extraordinary. They're regular guys who make the gutsy choice to risk their lives for other people on a regular basis. When I write about firefighters, I'm writing about the extraordinary part of us human beings – the part that is willing to sacrifice for someone else.
Maybe, like firefighters, we're sacrificing for total strangers. Or maybe we're sacrificing for a child, someone more vulnerable, or simply someone who needs us. Putting someone else's needs ahead of our own is one of the beautiful aspects of being human. We all do it on occasion, some more than others.
And often, as in the case of Fred, the hero of The Night Belongs to Fireman, we don't think it's anything special. Fred is the ultimate example of the ordinary/extraordinary. Not only does he perform daring rescues, but he watches his widowed neighbor's rambunctious kids and consoles his sister with Ben & Jerry's after a breakup. And even when he does pull off a spectacular rescue – as in the opening scene when he rescues an entire bachelorette party from a car crash – he sees it as simply his job. Nothing special. He's not driven by money or fame or glory. He simply wants to help and protect people.
How can I not love a hero like that?
For better or worse, I think it's a hopeless case. Even though the Bachelor Firemen series is wrapping up – after this book, there will be a Christmas novella called It's a Wonderful Fireman – I don't expect to ever get firemen out of my system. I'll move on to other heroes, other stories. I currently have some fun-loving ballplayers stealing their way into my heart.
But oh, those firemen, my oh my …
Do you have a favorite sort of hero? The kind that just does it for you, every single time?
Excerpt:
"That doesn't look like someone baking," pointed out the curvy blond girl, Cindy the bride. "Unless that's a rolling pin in his pants."
"Fred," Mulligan whispered loudly in his ear, "I'm in love. Can we party with these girls for a while?"
Rachel overheard. "No," she said. "Absolutely not. Right, girls? Bachelorette parties aren't supposed to have boys."
"Unless they're strippers," said the fourth girl, whose short hair looked like a spiky red dandelion. "Are you guys strippers?"
"Something could probably be arranged," said Mulligan. "Wouldn't be the first time." He jerked his head meaningfully in Fred's direction. "You should get him to tell you about it."
True, Fred had once taken part in a bachelorette party strip show. Never to be repeated, he'd vowed. "Mulligan, sit down and shut the fuck up," he told the other firefighter.
~*~
Buy Links
~*~
Author Info
Jennifer Bernard is a graduate of Harvard and a former news promo producer. The child of academics, she confounded her family by preferring romance novels to … well, any other books. She left big city life for true love in Alaska, where she now lives with her husband and stepdaughters. She's no stranger to book success, as she also writes erotic novellas under a naughty secret name not to be mentioned at family gatherings.
Website | Facebook | Twitter | Goodreads
~*~
We're giving away 3 copies of the first three books in the series, The Fireman Who Loved Me, Hot for Fireman, and Sex and the Single Fireman.