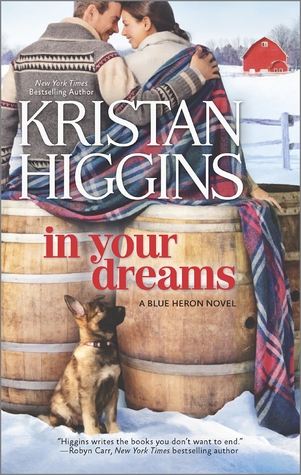 Emmaline Neal needs a date. Just a date—someone to help her get through her ex-fiancé's wedding without losing her mind. But pickings are slim in Manningsport, New York, population 715. In fact, there's really only one option: local heartthrob Jack Holland. Everyone loves Jack, and he won't get the wrong idea…. After all, Jack Holland would never actually be interested in a woman like Em. Especially not with his beautiful ex-wife creeping around, angling to reunite ever since he rescued a group of teens and became a local hero.
But when the wedding festivities take an unexpectedly passionate turn, Em figures it was just one crazy night. Jack is too gorgeous, too popular, to ever end up with her. So why is she the one he can talk to about his deep, dark feelings? If Em is going to get her dream man, she'll have to start by believing in him…
Source: egalley from Harlequin in exchange for an honest review (thanks!)
Dude.  Jack Holland is a prince.  No, seriously.  He's the prince of Blue Heron Winery.  The only son (grandson?) and works with his father and grandfather on the land that Hollands have lived on for eight generations.  Jack has always (in all the other books in the series) seemed like the happy-go-lucky, laid-back nice guy that every girl secretly crushes on because he's beautiful.  This is who Kristan Higgins said inspired Jack Holland:
So…um…anyway, what was I saying?  Yes, Jack Holland.  Jack Holland is an honorable, fun-loving guy, who is devoted to his crazy family and just an all around nice guy.  Then, to top it all off, he goes and saves a whole car of teenage hell-raisers after they crash into a lake in the middle of winter.  Now the entire town is slapping him on the back and his crazy ex-wife has returned to town and wants him back.
What does this mean? This means that Jack wants the hell out of Dodge.  And quick.  So when Emmaline wants to find a date for her ex-fiance's wedding, everyone suggests Jack because he's done it countless times before for the other women in town. He doesn't expect anything, he's complete eye candy, and he's a prince among men.  She's reluctant (because he's Jack freaking Holland), but eventually goes along with it and the results are fantastic.  Seriously, that wedding was priceless.
We get to watch them slowly fall for each other.  I do love a romance where one character is not initially attracted to the other and you can slowly see them come to find the other one beautiful (granted, it's usually the man who doesn't find the woman attractive and that kind of makes my feminist sensibilities cringe, but it also makes me sigh like a big ole school girl).  What was great about their relationship is that it was so unexpected.  They did not expect to fall in love but their chemistry was off the charts and they fit together quite well.  They are as surprised as we are (and everyone else in town) when they try to make it work.
Both Jack & Emmaline's back stories are heartbreaking.  In the first chapter, you get to know Jack and he is much different than I expected.  In previous books, he seemed fun and flirtatious, but an all around nice guy…uncomplicated.  Getting to know him here…he was different than I thought he was. He was definitely a great guy, just more complex.  His story line is tough and I just felt for him.  His relationship with the ex-wife, though, made me want to kick him in the ass.  Seriously.  Sometimes, being the good guy sucks.  We see that Jack isn't perfect, but he's pretty darn close. What a person shows the world and how they really are can sometimes be in conflict.  But Jack is just about as perfect as everyone expects him to be, but his character is much deeper than anyone expects, too.
Emmaline is a fantastic character.  She's tough, smart, and doesn't live her life to please anyone else. She is a fantastic heroine, someone who really made me respect her and her choices.  She was hurt in the past and still not over that, but she was strong and resilient.  I loved that she, as with the rest of the women in Mannningsport, had a small crush on Jack before she even got to know him, but saw him as completely out of her league.  I love all of Kristan Higgins' heroines, but most of the time, they are pushovers that let others walk all over them. Not Emmaline.  She did have a weak spot, though, which makes her human.  I LOVED her sister.  She was FANTASTIC.  I'm a big fan (as is everyone else in the book).  Emmaline's relationship with her parents, particularly her mother, was right on the money.
This series makes me so happy.  It's quite fun, funny, and the couples usually surprise me in some way. I think my favorite so far has been Levi & Faith, but they are all great.  Jack and Emmaline had me reading very fast.  This book is nearly 500 (!) pages and I finished it in little more than a day.  I cannot wait for more of this series.  I'm very curious about Connor.  I know he's getting his own book soon & I have questions that I expect to have answered, so get on it, Higgins!
5/5