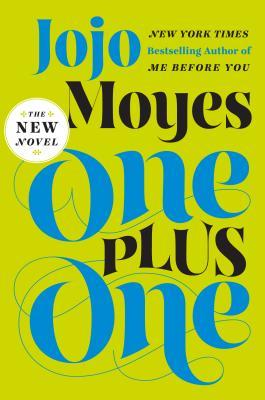 One single mom. One chaotic family. One quirky stranger. One irresistible love story from the New York Times bestselling author of Me Before You
Suppose your life sucks. A lot. Your husband has done a vanishing act, your teenage stepson is being bullied and your math whiz daughter has a once-in-a-lifetime opportunity that you can't afford to pay for. That's Jess's life in a nutshell—until an unexpected knight-in-shining-armor offers to rescue them. Only Jess's knight turns out to be Geeky Ed, the obnoxious tech millionaire whose vacation home she happens to clean. But Ed has big problems of his own, and driving the dysfunctional family to the Math Olympiad feels like his first unselfish act in ages . . . maybe ever.
Source:  egalley from Netgalley/Penguin for review purposes (thanks!)
Jess has a lot of stuff going on.  Her husband left 2 years ago (though she's actually fine with this) and she is raising his son and their daughter.  She was a young mother and dropped out of school, so what she does to make ends meet is clean houses.  She doesn't get anything from her ex, though he's not really her ex as they're still married, because she knows that he is depressed and does not have a job. So Jess makes do.  Her stepson, Nicky, is being beaten up because he dares to be unapologetically different and her sweet, brilliant daughter, Tanzie, is being given the chance to go to a private school.
Ed, meanwhile, is in some hot water.  He is being investigated for insider trading for just about the stupidest reason you can imagine.  Ed is a bit socially stupid, but because he is good-looking and relatively well off, his ineptitude with women has made life difficult for him.  While he is drowning his sorrows, he keeps running into Jess, who cleans his house and is the waitress at the local bar.  One night, he is so wasted that she helps him because, despite his being an ass to her, that's the kind of person she is.  Then Jess does something she would never do to ensure a better future for her daughter and that's where the story gets going.
I'm not going to lie, it took me a little while to get into.  This is my first book by this author and I was pleasantly surprised that it takes place in England (I do love that setting for a book).  I have a lot of friends who really love this author and I'm glad I requested the book for review. The reason that it took so long for me to get into is that there was a bit of a setting up period before the road-trip part of the story.
Once the road trip started, though, I breezed through this baby.  There was something really amazing about Jess.  She's essentially a single mother, works her fingers to the bone, and does everything she can for her family.  She's not the type to sponge off the system and she tries to teach her children that the easy way is not always the best way.  But like all of us, she makes a mistake that she intends to correct, but then she forgets about it and it eventually comes back to bite her in the butt.
Ed's involvement with this family seems to be both spontaneous and uncharacteristic, especially given the parameters that he has to stay within to be able to help them.  But he rises to the challenge, which is admirable of him and the beginning of his transformation.  And there's the fact that the issues that Jess and her family are dealing with make Ed's seem unimportant.  During the course of their trip, Ed and Jess overcome the stereotypes that they have for each other and actually come to need each other in a way that they had not expected.  They are both independent and have very strong personalities as well as a standard of conduct about themselves that is very rigid, which makes their ultimate relationship very sweet.
Over the course of the book, these characters came to mean a lot to me.  The things that they went through and the life that they lead made me want to hold them all close to me, put them in a glass case so that they could never be hurt.  But that is, of course, unrealistic.  This book kind of helped to restore my faith in humanity.  At the very least, it put a smile on my face.  It's about redemption and finding the person who makes you better and being resilient.  It's about family and love and survival.  It is a beautiful story and made me a big fan of this author.
4.5/5