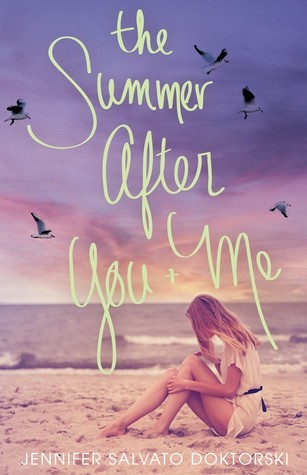 Sunbathing, surfing, eating funnel cake on the boardwalk—Lucy loves living on the Jersey Shore. For her, it's not just the perfect summer escape, it is home. And as a local girl, she knows not to get attached to the tourists. They breeze in over Memorial Day weekend, crowding the shore and stealing moonlit kisses, only to pack up their beach umbrellas and empty promises on Labor Day. Lucy wants more from love than a fleeting romance, even if that means keeping her distance from her summertime neighbor and crush, Connor.
Then Superstorm Sandy tears apart her barrier island, briefly bringing together a local girl like herself and a vacationer like Connor. Except nothing is the same in the wake of the storm. And day after day, week after week, Lucy is left to pick up the pieces of her broken heart and broken home. Now with Memorial Day approaching and Connor returning, will it be a summer of fresh starts or second chances?
Source: eARC from Sourcebooks Fire in exchange for an honest review (Thanks!)
~*~
Review
Lucy is a native of the New Jersey shore, but her life is nothing like the people in the reality show.  Lucy is content with her life on the shore where she is used to having people come in and out of her life with the seasons.  One of those people is Conner, her next door neighbor, but only during the summer. Conner is charismatic and adorable, with a string of girls in his wake.  Lucy and Conner also have a mysterious history that goes back to the fall, though known each other for years. This memory clings to Lucy and leaves her longing for Conner, though 1) he never called her after the storm, 2) she has a boyfriend, and 3) he has a girlfriend.  But they can't seem to stay away from each other, despite all of these and other obstacles.
I really loved Lucy because she knew who she was and didn't apologize for being smart and a science nerd.  She didn't feel the need to change herself.  She is keeping secrets from everyone about Conner, but I do think that is understandable.
Conner and Lucy were very cute together.  I was pulling for them the whole time.  There were lots of issues with Lucy's friends, her boyfriend, and her brother that really frustrated me on Lucy's behalf, but it added to the story and served to bring Lucy and Conner closer.  This is a very cute, sweet book that pulled me in immediately and kept me invested in the story and in Lucy's life. Doktorski also wrote How My Summer Went Up in Flames, which I also loved, so I have to say I recommend this book and all of her books.  They are quite entertaining with great main characters.
4/5
~*~
An Excerpt
Connor opened the gorgeous double doors, each with half-moon stained-glass windows on the top, and motioned me inside. "After you."
The house had that distinct yet hard-to-describe smell of a beach home that had been closed up for a while. I walked to the center of the high-ceilinged foyer and immediately pic­tured pine garland and twinkling white lights wrapped around the sweeping banister.
"Wow. I'd love to spend Christmas here," I said and immedi­ately regretted being so sappy.
Connor smiled. "You could fit a twelve-foot tree in this hallway."
I admit, over the years I've had my share of Connor-centric fantasies. However the image of him watching his children pad down the stairs on Christmas morning had never been one of them…until that very second. I liked thinking about Connor that way.
"Come on. You've got to see the master bedroom."
The wholesome image of a Malloy family Christmas van­ished. Aha, I thought. That was the Connor I knew.
"Uh-uh," I said. "The widow's walk. I want to go there first."
"Race you," he said and took off running.
He beat me up the two flights and was waiting for me in the third-floor hallway toward the back of the house. Off the hallway was an art studio, with a drafting table and a bookcase. There was also a telescope standing near the window.
"Follow me." He crossed the studio and unlocked the dead­bolt to the narrow door leading outside.
"You've already been up there?"
"First thing I did when I got here," Connor said.
"Not the master bedroom?"
"Nah, that's the first thing I wanted to do when you got here."
I thought it was just more flirty banter, but Connor's flushed cheeks looked as warm as my body felt. He stared at me for a beat too long and my throat constricted. I was suddenly aware that I'd left the house with slept-on hair and no mascara. The look on Connor's face told me he hadn't noticed. His eyes never left mine.
Finally he said, "Come on, Luce. I'll follow you." The space was tight when I passed in front of him, and the closeness of his body gave me the shivers. I opened the door and stepped outside onto a small patio. I walked toward the wrought-iron spiral staircase that lead to the widow's walk on the roof and placed my hand on the railing. My knees felt shaky as I began the climb, but I never looked back.
 ~*~
Buy Links
Amazon | Apple | BAM | B&N |Chapters |Indiebound
~*~
ABOUT THE AUTHOR
Jennifer Salvato Doktorski is the author of two YA  novels and is a freelance nonfiction writer. Her first paid writing gig was at The North Jersey Herald & News, where she wrote obituaries and began her lifelong love of news and coffee. She lives in New Jersey with her family.
Up for grabs are five copies of The Summer After You and Me!