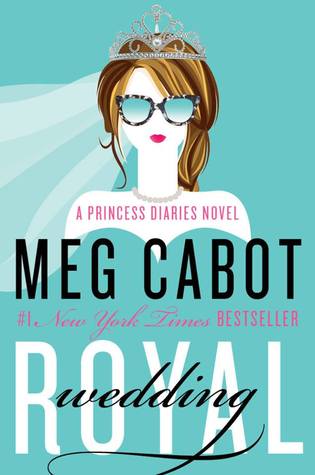 For Princess Mia, the past five years since college graduation have been a whirlwind of activity, what with living in New York City, running her new teen community center, being madly in love, and attending royal engagements. And speaking of engagements. Mia's gorgeous longtime boyfriend Michael managed to clear both their schedules just long enough for an exotic (and very private) Caribbean island interlude where he popped the question! Of course Mia didn't need to consult her diary to know that her answer was a royal oui.
But now Mia has a scandal of majestic proportions to contend with: Her grandmother's leaked "fake" wedding plans to the press that could cause even normally calm Michael to become a runaway groom. Worse, a scheming politico is trying to force Mia's father from the throne, all because of a royal secret that could leave Genovia without a monarch. Can Mia prove to everyone–especially herself–that she's not only ready to wed, but ready to rule as well?
Source: egalley from William Morrow for review purposes.
It's been a while since we last heard from Mia Thermopolis, aka, HRH Amelia Mignonette Grimaldi Thermopolis Renaldo.  When we left Mia, safely back into the arms of her one true love, Michael Moscovitz, she was a senior in high school.  Mia is now 25, nearly 26, and is living at the Genovian consolate because she has a stalker and her every move is catalogued by the paparazzi.  She can't even spend the night with her long-term boyfriend, Michael, without the paparazzi taking her picture and creating rude headlines about it. Her father, Prince Phillipe, the crown-prince and Prime Minister of Genovia, has recently been in the news due to him being a little reckless, which couldn't come at a worse time because he's up for reelection.
This book is called Royal Wedding, so you know what's coming, but it takes a while to get there due to the fact that's she and her beloved Michael (sigh) not even engaged yet and all of the other things going on in Mia's life.  I really loved seeing Mia grown up and capable.  She was such a dramatic fourteen year old (aren't we all), but she's really come into her own.  This grown up Mia is smart and more confident in herself and with her role as Princess, thanks, she realizes, to Grandmere.  Mia and Michael are looking forward to a quiet, small wedding, but that's all tossed out of the window when her engagement is leaked to the press.  Not only does she have to deal with that, a potential scandal comes to light that could further endanger her father's reelection.
I thoroughly enjoyed this book.  It reads very quickly, like all Princess Diaries books, and it was quite satisfying to get to catch up with all of our favorite characters, including Lilly (who is much more palatable in this book than the rest of the series), Tina & Boris (I always loved these two), Mia's parents and Grandmere, and, of course, Michael (who is too swoony for words).  It does read like it could be the final chapter we get from Mia's point of view because a lot of loose ends are tied up, but, if you weren't aware, there is a new series coming out that is related to the Princess Diaries, but I don't want to spoil it if you don't know what that could mean. 🙂 I do wish that Ms. Cabot would continue with the series, because I would read it until Mia is an old and grey Dowager Princess, walking with a cane and reminiscing about the good old days (as long as she doesn't kill off Michael, I would never forgive her for that).
5/5