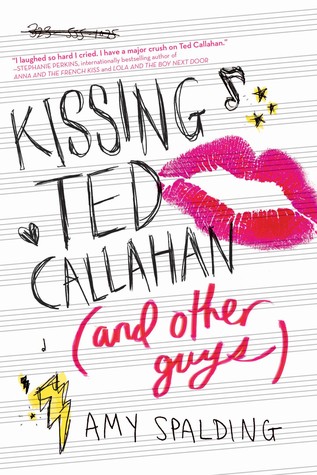 Nick and Norah's Infinite Playlist meets Easy A in this hilariously realistic story of sneaking out, making out, and playing in a band.
After catching their bandmates in a compromising position, sixteen-year-old Los Angelenos Riley and Reid become painfully aware of the romance missing from their own lives. And so a pact is formed: they'll both try to make something happen with their respective crushes and document the experiences in a shared notebook.
While Reid struggles with the moral dilemma of adopting a dog to win over someone's heart, Riley tries to make progress with Ted Callahan, who she's been obsessed with forever-His floppy hair! His undeniable intelligence! But suddenly cute guys are popping up everywhere. How did she never notice them before?! With their love lives going from 0 to 60 in the blink of an eye, Riley and Reid realize the results of their pact may be more than they bargained for.
Source: egalley from publisher for review purposes
Reid and Riley, friends and bandmates, are stunned to find their other bandmates, Nathan and Lucy, have been hooking up behind their backs. So they do what any jealous teenagers would do, they make a pact to be proactive in the romance department. The pact includes keeping a journal between the two of them on their progress. Riley's crush is Ted Callahan, but she also becomes involved with a couple of other boys, both whom she kind of uses in order to gain experience. Riley is confused by the opposite sex and wants to take advantage of the opportunities that going out with them present. Her ultimate endgame is Ted. When Ted starts to shyly come around, she is juggling three guys. Riley is also having issues with her best friend, Lucy, because she kept the truth about her and Nathan from Riley, so she pushes Lucy out of her life and begins to rely on Reid and the notebook as a confessional.
I thought this book was a perfect short, quick-reading summer story for teens. Riley comes off as pretty immature, especially the part about dismissing her best friend, and she clearly has a lot of growing up to do. But she's also a teenager and what better time to be immature and irresponsible than that? I have seen reviews that are slut-shaming Riley and I honestly take offense to it. I do not think that it would be an issue if she was a guy. It's not cool and it is not something that I want to participate in. Having actually read the book, I see Riley's behavior as experimental and entirely appropriate for her age. No, we do not see many books that has a teenage girl involved with three different guys, but the actual content and context of the involvement brings something to her life that would have been lacking if she had not had those experiences, so she grows from her actions, as do we all. In the end, I liked Riley and I appreciated her journey. She's smart, tough, and she goes for what she wants, which makes her a great heroine.  Also, I'm kind of a little bit in love with Ted Callahan.
3.5/5