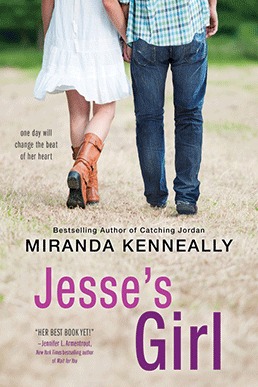 Everyone at Hundred Oaks High knows that career mentoring day is a joke. So when Maya Henry said she wanted to be a rock star, she never imagined she'd get to shadow *the* Jesse Scott, Nashville's teen idol.
But spending the day with Jesse is far from a dream come true. He's as gorgeous as his music, but seeing all that he's accomplished is just a reminder of everything Maya's lost: her trust, her boyfriend, their band, and any chance to play the music she craves. Not to mention that Jesse's pushy and opinionated. He made it on his own, and he thinks Maya's playing back up to other people's dreams. Does she have what it takes to follow her heart—and go solo?
Source: egalley from Sourcebooks for review purposes.  This in no way effects my opinion or my review.
Maya Henry is a musician and that's what she wants to be when she grows up.  She's given the opportunity to shadow country music's teen heartthrob, Jesse Scott, for a day as part of a school program.  Maya's not really a country music fan, but she knows Jesse's music and his reputation.
Jesse won a reality competition at a young age and has been working in the music industry ever since. He knows all the pitfalls and expectations that come from being famous and he is a bit wary of nearly everyone.  Jesse's closed himself off to most people and is not looking for more friends.  He's doing the whole shadowing thing because his uncle is the principal at Maya's school.  Maya and Jesse's relationship begins from a place of his wariness of her and her apprehension of him.  It's fun times, people.
I like and appreciate a story that isn't "love at first sight"- and this one is more animosity at first sight.  It was really enjoyable watching these two develop a friendship and trust for one another, which was realistic and nicely done.  I loved the dynamic of the country boy, never going anywhere without his trusty cowboy hat, and the 80s throwback, Madonna wannabe.  Though Maya is more than just some stock character.  Maya was fun and spunky and vulnerable, but also determined and driven.  Jesse was adorable, his vulnerability hidden behind sarcasm and covered in distrust and a fair amount of self-preservation.
I loved Maya's story, the things going on in the background of this romance.  She's in a band, but they don't want to play the kind of music she wants to play.  Maya also wants to get on the same reality competition that Jesse won all those years ago, though she has problems with stage fright.  I loved Maya's family, which includes older brother Sam Henry (of Kenneally's book Catching Jordan; he and Jordan have a significant role in this book). I enjoyed watching Jesse slowly beginning to trust Maya and discover that she's not out for a piece of him, but is genuine in a way that he can trust.  In turn, Jesse helps Maya to overcome her inhibitions and work for the things she needs. Maya and Jesse needed each other and it was pretty great to watch.
3.5/5