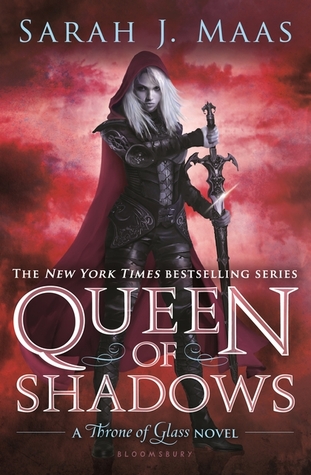 Everyone Celaena Sardothien loves has been taken from her. But she's at last returned to the empire—for vengeance, to rescue her once-glorious kingdom, and to confront the shadows of her past . . .
She will fight for her cousin, a warrior prepared to die just to see her again. She will fight for her friend, a young man trapped in an unspeakable prison. And she will fight for her people, enslaved to a brutal king and awaiting their lost queen's triumphant return.
Celaena's epic journey has captured the hearts and imaginations of millions across the globe. This fourth volume will hold readers rapt as Celaena's story builds to a passionate, agonizing crescendo that might just shatter her world.
Source: purchased
Release Date: September 2, 2015
Warning: spoilers for the books of Throne of Glass
At the end of Heir of Fire, we were left in a bad place.  It was terrifying and it seemed hopeless. So it was with great trepidation that I opened Queen of Shadows.
Dorian's been locked into a Wyrdstone collar by his father, Sorscha's been killed, Aedion has been taken prisoner, and Chaol's escaped, barely.  And Aelin, AKA Celaena, is on her way back from Wendlyn, ready to kick ass and takes names. Though she is unaware of what awaits her, and we (the readers) tremble in fear and resignation of the horrible things to come. (At least, I did…metaphorically, anyway.)
I don't want to give a synopsis of the book because SO MUCH HAPPENS (the book is over 600 pages long) and pretty much anything I say would be a spoiler. However, I want to acknowledge how this book made me feel.
I think Queen of Shadows is the best book of the series. The theme of the book is Hope. Hope when it seems like the world is ending, like there is nothing of beauty and goodness left in it. Aelin has come into her own as a part-Fae Queen of Terrasen, no longer willing to hide. She is determined to bring down the King of Adarlan and free her people and all of those under the reign of this tyrant. She will not be stopped.
There were lots of new characters added to the story, characters that add a lot to the story and go a long way to fleshing out the already staggeringly complex plot. Old characters also add a lot to the narrative, their growth and the way they change or the things we learn about them adds another level of awe at Maas' storytelling prowess. We learn many things and the story progresses so much.  We are also rewarded with closure that I know I've been hoping for since the novellas. My ships are torn apart, but new ones, maybe even better ones, are being built on the ruins. See what I mean about hope? I'll probably be a pain to be around today (I just finished the book 30 minutes ago).
Another pertinent theme is the power that the women characters wield. These glorious, beautiful, selfless, amazing women…some of the best written women I've ever read. I have to note that in Heir of Fire, I wasn't a big fan of the witches. I didn't see how Manon could be an ally because it was clear in Heir of Fire that that was the direction it was going in.  And in this book, I was still dreading reading the parts with them in it, but I stand corrected. I see potential, I see where it could be going (I'm really not going to speculate because Maas does an amazing job of surprising the hell out of me), and in the end, I was looking forward to those chapters. The men aren't too bad either, all swagger and Alpha-ness.
I want to give a shout out to my new favorite characters, Nesryn, Elide, & Lysandra. Let's have tea one day soon. Miss you already. Love you.
To sum up, you're in for a very surprising and hopeful book. Maybe you'll want to stop reading because everything seems lost, but think of Aelin, she will give you strength. Think of Dorian and what he's enduring, and think of Chaol's haunting pain and guilt. You will persevere and you will be rewarded. Nothing worth having comes easy.
5/5