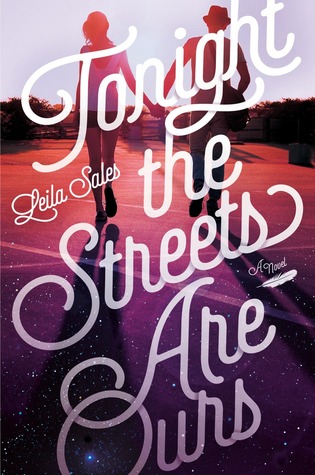 Seventeen-year-old Arden Huntley is recklessly loyal. Taking care of her loved ones is what gives Arden purpose in her life and makes her feel like she matters. But she's tired of being loyal to people who don't appreciate her—including her needy best friend and her absent mom.
Arden finds comfort in a blog she stumbles upon called "Tonight the Streets Are Ours," the musings of a young New York City writer named Peter. When Peter is dumped by the girlfriend he blogs about, Arden decides to take a road trip to see him.
During one crazy night out in NYC filled with parties, dancing, and music—the type of night when anything can happen, and nearly everything does—Arden discovers that Peter isn't exactly who she thought he was. And maybe she isn't exactly who she thought she was, either.
Source: ARC from MacMillan for review purposes. All opinions are my own.
Arden is recklessly loyal. No, it's true. That's what she's always been told. She takes it upon herself to "fix" everything for everyone around her, but she starts to realize that she isn't getting what she needs. Especially since her mother left her and her brother and father, and it's made her resentful. She finds a blog written by a boy in New York City, and she…well, there's no other way to say it, she stalks him. From there, she comes to realize a lot about herself and those around her.
Let me go on record to say that I love Leila Sales' books. I think she can tap into the YA psyche and make even this old lady connect to them in a way that feels authentic. Arden, however, was not a character that I liked. Typically, I always side with the protagonist, but as the book went on, I liked Arden less and less. For being so loyal, I found her to be judgmental, also. Some would say that her judgment was justified and I do agree to an extent, but I also found that she was happy to play the martyr and take on the role that she didn't think anyone else could or would do, which also makes her sanctimonious and unlikable.
I do think that Tonight the Streets are Ours was a well written book with a good message, but I couldn't connect with Arden like I could with Elise in This Song Will Save Your Life. Also, Sales promised at the beginning of the book that it was a love story, and it did end up being one, but not one that I was anticipating and I kind of felt a little mislead in that area. I kept waiting for something to happen and was anticipating this epic romance, but we didn't get that and it was disappointing. I can live without a romance (I mean, if I HAVE to), but I felt gypped from the promise of one.
3/5