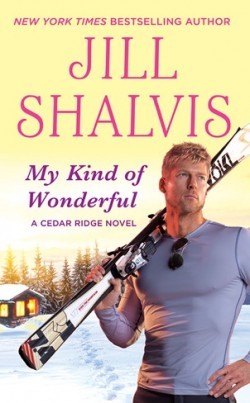 Bailey Moore has an agenda: skiing in the Rockies, exploring castles in Europe, ballroom dancing in Argentina. Now that she has a second lease on life, she's determined not to miss a thing. What she doesn't realize is that item #1 comes with a six-foot-one ski god hot enough to melt a polar ice cap. She doesn't want to miss out on him either, but Hudson Kincaid isn't the type of guy to love and let go. And as gorgeous as Cedar Ridge is, she's not planning to stick around.
As head of ski patrol at his family's resort, Hud thinks he's seen it all. But never has he run into someone like Bailey. She might look delicate, but her attitude is all firecracker. And her infectious joy touches something deep within him that he's been missing far too long. Now he'll just have to convince Bailey to take a chance on her biggest adventure yet . . . something rare and all kinds of wonderful.
Source: ARC from the publisher Grand Central Publishing in exchange for an honest review. (thanks!)
Bailey has just been "rescued" by Hudson, who is the head of ski patrol and a co-owner, along with his siblings, of the Cedar Ridge ski resort. Bailey has finally gotten her life back after having cancer for years. She's ready to start living it by her own terms, which includes checking items that she never thought she'd be able to do off her bucket list. One of those items is painting a mural, which she's just been hired to do at Hudson's resort.
Hudson is a busy man. He works for the resort, he's a cop, he takes care of his siblings and his ailing mother, and he's desperately trying to find his twin brother, who left when they were 18 and has not been seen or heard from by him or his family since. Hudson feels and carries a lot of responsibility. But this responsibility has weighed him down and made him make walls around himself that no one has been able to breach, with the exception of his own family.
When he meets Bailey, he is immediately drawn to her and their mutual attraction is inconvenient for both of them because she has a new lease on life and he has no plans for leaving Cedar Ridge.
Hudson is the best kind of alpha man. He's affectionate, gives with his whole heart, and doesn't expect anything from Bailey that she isn't willing to give. Sure, he's a little stubborn and unwilling to really put himself out there for fear of not having his feelings returned, but it was quite enjoyable watching him fall in love with Bailey and fight/love/be there for his siblings and mother.
Bailey was a refreshing change of pace from most romance heroines. Not that all heroines don't have genuine issues, but Bailey's issues really helped to put a lot of things in perspective for me personally. I loved everything about her. I loved that she had peach fuzz hair and wore crazy colored stocking caps. I loved that she never apologizes for the way she is living her new life. I loved that she was there for Hudson and helped him to see that he was more than just the helper and he was not to blame for the decisions of others.
Jill Shalvis always has me turning pages quickly. Every single book I read by her, I fall in love with the male lead character. He's my favorite until I read another of her books. This book was no exception. Hudson was a fantastic alpha guy. It was very easy to see why Bailey would be attracted to him and fall for him so completely. Bailey was also a great character, with a lot of spunk and very likable. It's hard to find new ground when writing and/or reading romance, but I loved Bailey's background and the fight she had in her. She never asks for sympathy and she's pretty adorable. To summarize: fantastic, likable characters; interesting storyline; hot alpha with emotional issues…there's a lot to love here.
4/5