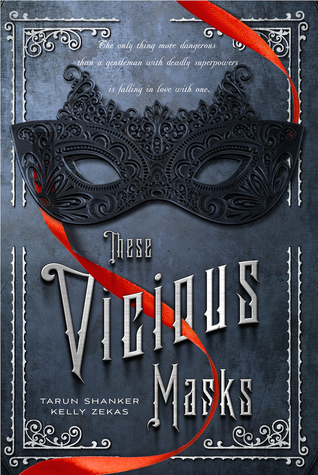 Jane Austen meets X-­Men in this gripping and adventure-­filled paranormal romance set in Victorian London.
England, 1882. Evelyn is bored with society and its expectations. So when her beloved sister, Rose, mysteriously vanishes, she ignores her parents and travels to London to find her, accompanied by the dashing Mr. Kent. But they're not the only ones looking for Rose. The reclusive, young gentleman Sebastian Braddock is also searching for her, claiming that both sisters have special healing powers. Evelyn is convinced that Sebastian must be mad, until she discovers that his strange tales of extraordinary people are true—and that her sister is in graver danger than she feared. (From Goodreads.)
Source: ARC from Swoon Reads in exchange for an honest review (thanks!)
I really enjoyed this book about Evelyn and her sister, Rose. They live in Victorian England, which I really love to read about. Evelyn and Rose go around their country home to help to nurse sick people and they're pretty good at it, particularly Rose. Then Rose goes missing and Evelyn is convinced she was kidnapped and that is pretty much where the action starts.
As Evelyn goes to London to find Rose, she is helped along the way by two men, Mr. Kent and Mr. Braddock. This leads to a love triangle (and possibly a love square), but I think it's pretty clear who belongs with whom.
Anway, back to the plot. According to Mr. Braddock, there is a whole underground contingency of people with these extraordinary powers. He has powers, he believes that Rose has them, and we come to find out that Evelyn has them as well.  The man who has kidnapped Rose is experimenting on these kinds of people and he believes that his experiments are for the greater good of society. Plus, he's pretty scary and mysterious, which adds a layer of suspense to the mix.
These Vicious Masks was great fun and action packed. We learn a lot about these people and I love the description of "Jane Austen meets X-Men" because it's pretty apt (though, as a history nerd, I do need to point out that Jane Austen's Regency England takes place several decades before Victorian England). I quite enjoyed the book and I'm looking forward to the rest of the series.
4/5