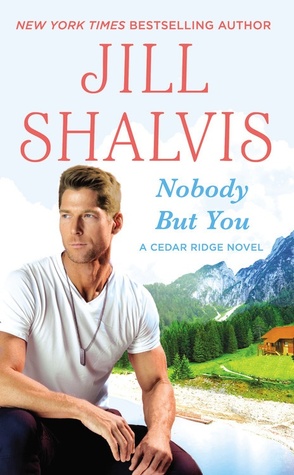 After an overseas mission goes wrong, Army Special Forces officer Jacob Kincaid knows where he must go to make things right: back home to the tiny town of Cedar Ridge, Colorado. All he needs to scrub away his painful past is fresh mountain air, a lakeside cabin, and quiet solitude. But what he discovers is a gorgeous woman living on a boat at his dock.
Sophie Marren has nowhere else to go. She's broke, intermittently seasick, and fighting a serious attraction to the brooding, dishy, I'm-too-sexy-for-myself guy who's now claiming her dock. Something about Jacob's dark intensity makes her want to tease—and tempt—him beyond measure. Neither one wants to give any ground . . . until they realize the only true home they have is with each other.
Source: ARC for review purposes. This in no way affected by review. All opinions are my own.
I am thoroughly invested in the Cedar Ridge series by Jill Shalvis about a group of siblings with the same father but different mothers who run a ski resort in Colorado. I've been there since the beginning rooting for them to get their lives together and find that perfect person for them. Aidan and Hudson both had great, satisfying stories, but I have to say that I was very interested in learning more about Jacob, Hudson's twin. Jacob left home at 18 and joined the Army and hasn't contacted his siblings since. Well, he's back. In this particular instance, I was more interested in the family conflict than in the romance, though the romance was pretty great. I wanted everyone to just hug and make up, though I knew it wouldn't be that simple. I already knew Hud's side of the story and now I wanted to get to the why of Jacob's distance from his family. Of course, I fell right in love with Jacob, just like Sophie did, and every time he felt guilt or pain, I felt it too. I'm such a sucker for an alpha guy.
Truthfully, I liked Sophie a whole heck of a lot, too. I really loved her tenacity and the strength she exuded. I love that she refused to be a doormat and was smart and tough. She was a good match for Jacob.
Another stellar love story by Jill Shalvis. She's the one you want to read if you need hot romance, a sweet love story, and lots of laughs. She's the gold standard, people.
4.5/5