April's monthly topic is:
Top 10 Contemporary Romances
This list is by no means comprehensive, but rather some of my favorite recent 5 star contemporary reads. I hope you give them a chance. I don't think you'll be disappointed.
Just One of the Guys by Kristan Higgins.
This book is my all time favorite contemporary romance. The heroine, Chastity, is feisty, smart, tough, klutzy, and very likable. The hero, Trevor, is a very stoic alpha who has a very heartbreaking background (he's #1 book boyfriend). Plus her family is so amazing and I loved every single one of them. The ending is just about the best ending of any romance I've ever read, which is saying quite a lot. I've read this book (and recommended it) many, many times. It's perfect.
Call Me Irrestible by Susan Elizabeth Phillips
Another favorite author. This is a hate to love story and it's done so well. If you read this book, though, you must read the companion book, The Great Escape, to get the other side of the story.
Though CMI comes first in the series, I actually read TGE first, and I think it works better that way, maybe because I love the two main characters and their love story more.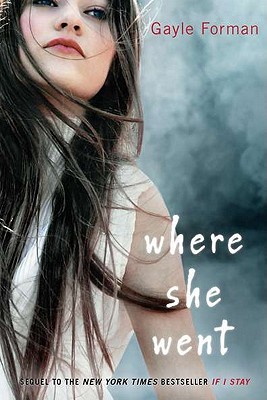 Where She Went by Gayle Foreman
While If I Stay is a lovely, if heartbreaking, book that introduces us to Mia, a cello virtuoso who gets into a car crash with her family, and Adam, her opposites attract boyfriend (and one of my favorite book boyfriends), Where She Went is the payoff for the heartbreak. I loved it so much. My 10 year old niece recently read IIS, but I told her mom that WSW is a more grown up book and she shouldn't let her read it until she's 17.
Head Over Heels by Jill Shalvis (my review)
The third book in the Lucky Harbor series is about wild child Chloe and Sheriff Sawyer (another book boyfriend). Sawyer is the real star here (stoic and alpha, yum), though Chloe is pretty great heroine with surprising depth given the way she is portrayed in the earlier books.
Playing Dirty by Susan Andersen (my review)
This is the third book in the Sisterhood Diaries series and it's the best. It's a hate to love story that was so enthralling. The hero, Cade, has been made out to be a total douche in the previous books, but turns out to be very swoonworthy.
I'll Meet You There by Heather Demetrios (my review)
This book is so captivating. It's about Skylar, on the verge of graduating, desperate to get out of her small town and make her own way in the world. She falls in love with Josh, who has recently returned from fighting overseas, and he carries with him baggage and scars. Their love has to overcome many obstacles, but it's all worth it, despite all the complications.
Happiness for Beginners by Katherine Center (my review)
Helen is bitter and alone after her divorce and decides to take a hiking trip, but is foiled by Jake, her brother's best friend. Jake's presence makes it hard for Helen to stay anonymous and he makes her reevaluate herself, her perceptions, and her life.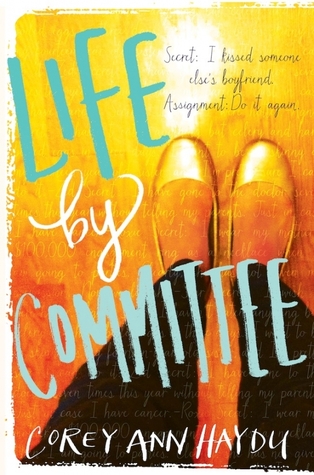 Life By Committee by Corey Ann Haydu (my review)
This is a very interesting story about a girl who allows strangers to make decisions for her in exchange for giving her an outlet for her secrets, which she cannot share with anyone in her real life. The writing is amazing and the book really makes you think.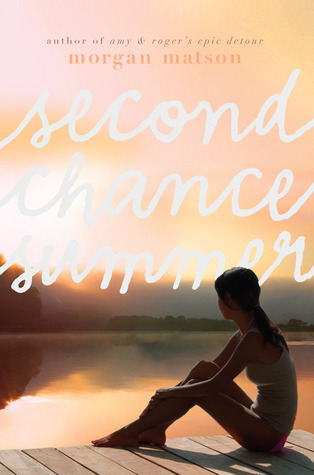 Second Chance Summer by Morgan Matson
I remember picking up this book on a whim and becoming completely enthralled by the characters and the story. And crying.
Something Borrowed by Emily Giffin
This book is one of my absolute favorites. I love the characters, even if I can't really get behind their actions (Rachel sleeps with her best friend's fiance, Dex). I identify with Rachel on several levels and forgive her for her missteps. Life isn't tidy and we make mistakes, but is all fair in love & war?