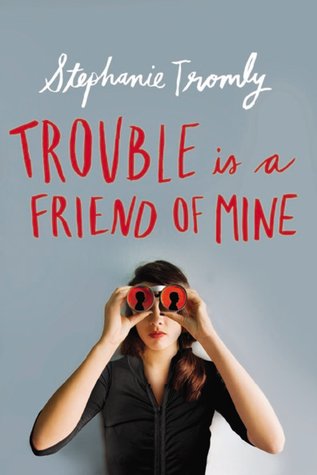 Of course I didn't like Digby when I first met him. No one does.
The first time Philip Digby shows up on Zoe Webster's doorstep, he's rude and he treats her like a book he's already read and knows the ending to.
But before she knows it, Zoe's allowed Digby—annoying, brilliant, and somehow…attractive? Digby—to drag her into a series of hilarious, dangerous, and only vaguely legal schemes all related to the kidnapping of a local teenage girl. A kidnapping that might be connected to the tragic disappearance of his little sister eight years ago. When it comes to Digby, Zoe just can't say no.
But is Digby a hero? Or is his manic quest an indication of a desperate attempt to repair his broken family and exorcize his own obsessive-compulsive tendencies? And does she really care anyway?
This is a contemporary debut with razor-sharp dialogue, ridiculously funny action, and a dynamic duo you won't soon forget. (Goodreads)
Source: library
Zoe is new in town. Her mother is recently divorced and Zoe has not had too much luck making friends. One day, resident weirdo, Digby, shows up on her doorstep and she can't help but be sucked into his world and goes along for the ride.
Digby was an absolute treat. His eccentricity and originality was a lot of fun to read because you didn't know what he was going to do next. Having said that, I have to admit that the book is a little predictable, but the ride was so much fun.
I love a good mystery. I really wish there were more YA mysteries, especially ones that are laugh out loud funny. I did not want to put the book down and, in fact, read half the book in one sitting.
What I liked:
Digby and all of his eccentricities. I loved finding out more about him as the book went on and realizing that he isn't one dimensional weird, but layered and complex.
Henry. I am a little confused by his character because Zoe has a crush on him and he is decidedly NOT interested, but I did like him and can't wait to read more about him.
Mean Girl with surprising depth and the potential for growth. Possible friendship between Mean Girl and Zoe in book 2 despite their antagonistic relationship in this book.
Overall:
I am so glad I picked this up from the library. I ripped me right out of my reading slump. It's funny, has heart, and though a little predictable, still a fun ride.
4.5/5