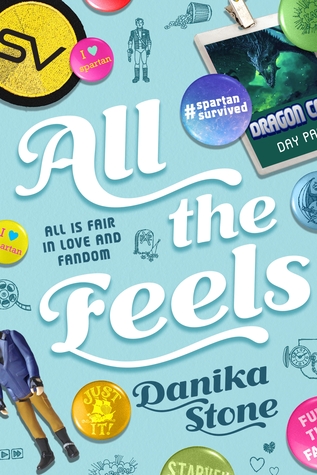 College freshman Liv is more than just a fangirl: The Starveil movies are her life… So, when her favorite character, Captain Matt Spartan, is killed off at the end of the last movie, Liv Just. Can't. Deal.
Tired of sitting in her room sobbing, Liv decides to launch an online campaign to bring her beloved hero back to life. With the help of her best friend, Xander, actor and steampunk cosplayer extraordinaire, she creates #SpartanSurvived, a campaign to ignite the fandom. But as her online life succeeds beyond her wildest dreams, Liv is forced to balance that with the pressures of school, her mother's disapproval, and her (mostly nonexistent and entirely traumatic) romantic life. A trip to DragonCon with Xander might be exactly what she needs to figure out what she really wants. (from Goodreads)
Source: ARC from the publisher, Swoon Reads/MacMillan. Thanks!
Liv's life revolves around her favorite movie series, Starveil. She is active in the online fandom and even contributes by making fan videos. When the most recent movie kills off her favorite character, Liv is thrown into a depression. It's about more than the movies for her, it's her link to her dead father. Her mother does not get this and refuses to allow her to continue wallowing and obsessing about Starveil, cutting her off from one of the only things in her life that makes her feel like she's a part of something.
Another bright spot in Liv's life is her best friend, Xander. Xander is a trip. He is perpetually in cosplay as a steampunk dandy. I thoroughly loved Xander because he was his own person and did not care what other people thought.
It was obvious early on that Liv and Xander have feelings for each other, though Xander does have a girlfriend. I was kind of worried about that, honestly, even when they attempted to set Liv up as a way to help her stop obsessing about Starveil.
Liv gets a brilliant idea to make a video proclaiming that her favorite character may have survived, and this grassroots campaign takes off, even catching the attention of the powers that be who make the movies.
It all comes to a head when Liv and Xander attend Dragon Con and Liv is confronted with the consequences of her grassroots campaign, because everyone is NOT happy about it.
I really liked this book. It was cute and funny. Xander and Liv's relationship had me glued to the book because it was sweet and they were so obviously made for each other. I really enjoyed the fandom aspect as well and I may have seen myself a little in the slightly awkward Liv. It was a quick read and will speak to you, as well, if you have any sort of fandom obsessions.
3.5/5