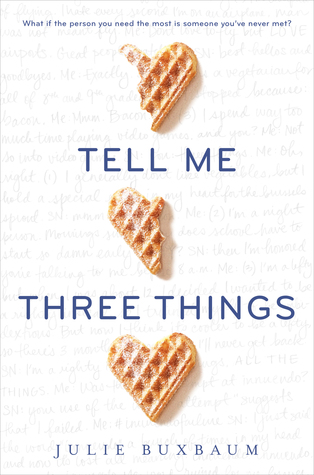 Everything about Jessie is wrong. At least, that's what it feels like during her first week of junior year at her new ultra-intimidating prep school in Los Angeles. Just when she's thinking about hightailing it back to Chicago, she gets an email from a person calling themselves Somebody/Nobody (SN for short), offering to help her navigate the wilds of Wood Valley High School. Is it an elaborate hoax? Or can she rely on SN for some much-needed help?
It's been barely two years since her mother's death, and because her father eloped with a woman he met online, Jessie has been forced to move across the country to live with her stepmonster and her pretentious teenage son.
In a leap of faith—or an act of complete desperation—Jessie begins to rely on SN, and SN quickly becomes her lifeline and closest ally. Jessie can't help wanting to meet SN in person. But are some mysteries better left unsolved?
Source: purchased
Jessie's recently moved from Chicago to California, and oh, what a change it is. She's at a new school full of rich kids and she has no one. Even her new stepbrother wants nothing to do with her. Her father seems to be avoiding her and she is avoiding her new stepmother. Life in Chicago was so much easier.
Then Jessie gets an email from someone calling themselves Somebody/Nobody. At first she's wary and doesn't want anything to do with this person. What if it's someone trying to set her up for embarrassment? She can take care of herself, thank you very much.
But she quickly realizes that she could use someone to guide her and she turns to SN for help. His advice quickly shows to be true and soon SN becomes an important part of Jessie's life.
I think it was obvious pretty early on who SN was, but I enjoyed watching Jessie navigate her new life and slowly come to integrate herself in her new school and home, and make new friends. And I really enjoyed their flirty interactions and just their conversations in general.
This book is one of my new favorite contemporaries. I really loved the love interest and the mystery of who SN was. As I was reading, I kept thinking "Oh ________ would love this book!" The characters, especially Ethan, really elevated the book from something that could have easily fallen flat or been gimmicky. I immediately wanted to read everything that Julie Buxbaum has written.
4.5/5