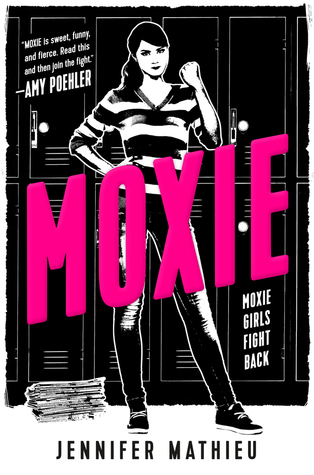 Moxie girls fight back!
Vivian Carter is fed up. Fed up with her small-town Texas high school that thinks the football team can do no wrong. Fed up with sexist dress codes and hallway harassment. But most of all, Viv Carter is fed up with always following the rules.
Viv's mom was a punk rock Riot Grrrl in the '90s, so now Viv takes a page from her mother's past and creates a feminist zine that she distributes anonymously to her classmates. She's just blowing off steam, but other girls respond. Pretty soon Viv is forging friendships with other young women across the divides of cliques and popularity rankings, and she realizes that what she has started is nothing short of a girl revolution.
Source: ARC received from publisher, MacMillan/Roaring Press Books. Thanks so much!
It's been a long time since we did one of these, but for the uninitiated, She Said/She Said is a feature on Gone Pecan where both of us read a book and give our take on it. We were both sent a copy of Moxie to review and since it's a book about feminism, we were both very excited to get our hands on it. As you will be able to see, we were not disappointed.
~*~
When Daphne and I first chatted about featuring Moxie as our first She Said/She Said in quite awhile I was excited to work with her on one post again.  But then I started reading and realized it was going to be a struggle to keep my review minimized because I had so many feelings about the subject.  Let's see how it goes. . .
Moxie is a book I could read 1,000 times and shake me head in both agreement and anger with every time.  It is a book every man, woman, and child should read.  It is a book that should be used as a lesson plan.  It is book that should just be read and spoken about daily.  I wish there were more books like it out there (and if you know of more please send recs my way!) for women of all ages to read and see that it is 
ok
 to speak up for yourself and others.  We do not have to be the doormats the society tries to tell us to be.  We can be strong and should be valued for our contributions.
Ms 
Mathieu
 created a perfect example of what any teen girl, hell even some women, go through in society today.  It isn't as prevalent in larger cities (thankfully) but it is still there in any town across this country.  I grew up and still live in a fairly small town.  Football and similar male dominated sports/activities (hunting, anyone?) dominate every one's time, rearrange their schedules around, etc.  This shouldn't be the case.  I'm not saying it is wrong to like or do these things, just that other activities should have just as much merit.  I'm honestly at a loss on what else to say without this turning into some feminist manifesto.  I will leave you with just one word and a hope that you read this book STAT.
BRAVO.
~*~
I loved the idea of Moxie. I am all for high school girls learning early about feminism and normalizing it and teaching other girls, namely the ones reading the book, that feminism is OKAY. But then I realized that I would have to sit through the stuff that Viv, our main heroine, has to go through that makes her so mad that she starts a Riot Grrl zine. And that those things would likely make me very irritated. But Ms. Mathieu managed to make our heroine's experiences fire this old feminist up and make me long for the ultimate takedown.
Viv's finally had enough of the sexist and degrading way she and the other girls at her high school are treated by the boys and sanctioned by those in power. Of course the boys football team is at the tip of the hierarchy and everything revolves around them. The girls of the school are subjected to many sexist and degrading things in their presence, aside from authority dismissing their concerns and ignoring their complaints.
I loved how good girl Viv slowly started to feel her feminist power. It was, for lack of a better word, empowering. I was right there with her as she got mad and decided the only thing do to was to fight back. I agree with Kristina that this book is a must read for teenage girls, yes, but even, maybe especially, for teen boys. And I want more books like this that teach that feminism isn't bad and can be inclusive for everyone. In the end, I was wrong to be apprehensive about being mad about the things that I knew that Viv would need to go through in order to become a Riot Grrl because it was so rewarding. Well done, Ms. Mathieu.
Please check out the other blog posts on the tour: